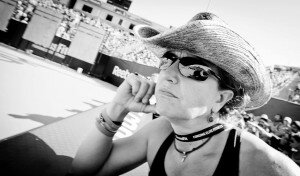 This site contains the writing of Lisbeth Darsh. The opinions expressed here are of Lisbeth Darsh and not of CrossFit, Inc.
If you utilize my words, please give credit to me (Lisbeth Darsh), or a link back to this site. If you have any questions about use of my words, please read the license below. Reproduction in a publication (other than a blog) is prohibited without express written consent. Additionally, photographs by Nicole Bedard Photography are property of Nicole Bedard and may not be reproduced in a publication, or used separately from my words, without express written permission of Nicole Bedard. In other words, just like the nuns taught in grammar school, don't take what doesn't belong to you. Read it, enjoy it, think about it, share it with your peeps — that's all cool. Just remember that there are people who struggled to make this stuff and it belongs to them. Thank you! And thanks for reading!
You can reach me on Twitter @lisbethdarsh, on Words With Lisbeth on Facebook, or via email at lisbeth@crossfit.com. Also, you can follow me on Tumblr at Words With Lisbeth. I'm even on Instagram (@lisbethdarsh), because (in the words of Springsteen) "I'll be on that hill 'cause I can't stop. I'll be on that hill with everything I got."

All work on this site is licensed under a Creative Commons Attribution-NonCommercial-NoDerivs 3.0 Unported License. That means you can share it, but you must give credit, you cannot alter it in any way, and you cannot use it in a commercial publication. Thanks for reading, sharing, and respecting!